Computer Simulation of Magnetosphere: Programs and Examples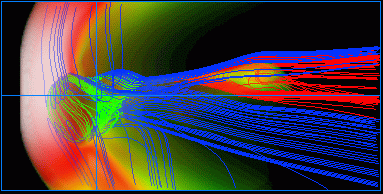 ---
Interaction of the solar wind with the earth's magnetosphere has been studied by using a 3-dimensional global MHD model.


What's computer simulation?


Magnetosphere (Global): Database Site


readme
---
Japanese version is here.
---
3-Dimensional MHD Codes and Graphic Programs
Three Dimensional Global Magnetohydrodynamic (MHD) Simulation
Demonstration of MHD simulation results and articles on MHD simulation

Acknowledgments: Support for the production of CAWSES SPACE-W Database was provided by Grants-in-Aid from the Japan Society for Promotion of Science (JSPS), "CAWSES Space Weather International Collaborative Research Database in Japan", and Grant-in-Aid from Japan Society for the Promotion Science (JSPS), (A)(1) "Study of Solar Wind-Magnetosphere-Ionosphere Dynamics Using Common Parallel Computation Codes in MHD and Particle Simulation". Computing support was provided by the Information Technology Center of Nagoya University.
---